Club080 is referral platform that financially rewards members connected by the same goal – to learn, add value, create wealth and change their world.
Members learn how to earn a decent income using just their mobile phone, through:
Sales of recharge cards/data, ATM cards, phones, laptops, etc. Members become automatic Mobile Money Agents authorized to open bank accounts for customers, issue/fund ATM cards, deploy POS machines, send/receive money, bill payments such as DStv, GOtv, Startimes, PHCN, Insurance, School Fees, Religious Tithes and offering, etc.
Members also gain instant access to WhatsApp and Telegram groups where they can learn professional blogging, mobile money, digital marketing, etc.
To enjoy all these and more, a one-off lifetime membership fee of a minimum of N1,000 is required.
Members earn 3% commission on airtime/data & 50% referral commission!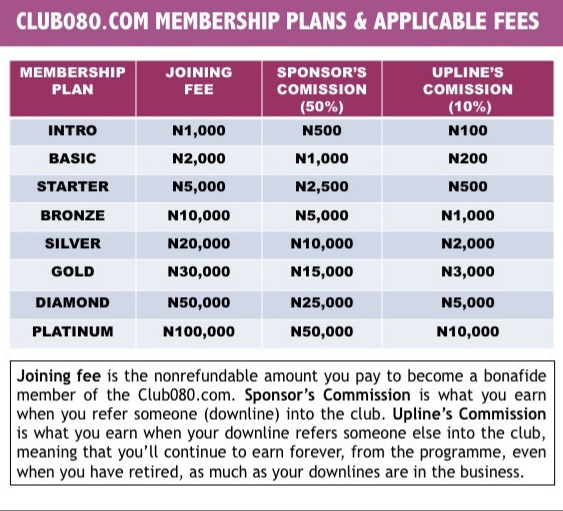 Club080 Memberships are upgradeable, so you may start from a smaller membership plan and upgrade to a higher one at any time, by paying only the difference in an amount from your existing plan to the new one. For example, you may start with starter membership of N5,000 and upgrade later to Bronze of N10,000 by paying only N5,000 extra, since you already paid N5,000.
Note
When you introduce a prospect into the network, you are referred to as their sponsor, while they are your downline; and the person who referred you is upline to your downline.
Example: James refers John to the network > John refers Mike to the network |
James = Mike's upline >
John = Mike's sponsor >
Mike = John's downline
--------------See how much members are earning--------------
Lagos/Head office
20 Adeniran Ogunsanya, Surulere, Lagos - Nigeria 101014
Tel: 08062623609 | 08069718569
Email: info@club080.com
WhatsApp: Click here to chat with us